Spring has been an Tine Spring, Agriculture Spring, Pickup Spring manufacturer and supplier and offering large runs, short runs and prototypes with the highest levels of accuracy and reliability. Spring components are custom manufactured to meet each customer's specific requirements. With some of the most efficient and accurate production processes in the industry, our parts are relied on for reliable and durable performance in the harsh environments found in many agriculture and farm equipment applications.
We produce parts for agricultural applications using a wide range of materials sizes, manufacturing small stampings for an irrigation timer to a large shock-absorbing compression springs and torsion spring. All Spring components are custom manufactured to meet exact order specifications, and we are ready to produce the precision springs, wire forms your application requires. Read More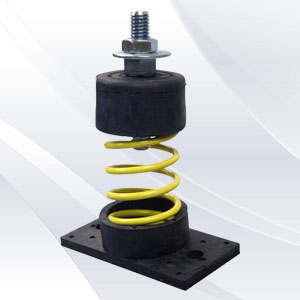 Isolator Springs
Being a client-centric firm, we are engaged in manufacturing, supplying and exporting a wide gamut of Isolator Springs. These springs are manufactured in well-equipped infrastructure so that these are in strict adherence with international quality standards. Owing to their corrosion resistance, reliable performance, high tensile strength and durability, our springs are highly acknowledged in the market. To meet the exact clients' requirements, we offer Isolator Springs in a variety of sizes and specifications.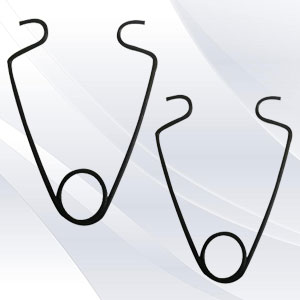 Winding Clip
We as a trusted manufacturer and exporter, engaged in offering an exclusive range of Winding Clip Springs. These springs are made by a team of veteran professionals using best quality materials like spring steel, stainless steel and brass, following the norms and guidelines laid down by the industry. With these Winding Clip Springs, we are meeting the demands of industries like textile, automotive, engineering, electrical, construction and railway. We offer these springs to the clients at reasonable price.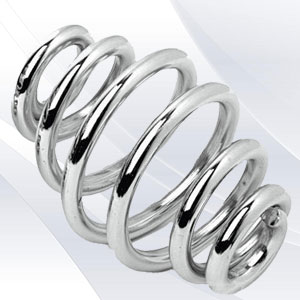 Conical Springs
Conical compression springs are cone shaped to provide near constant spring rates and significantly more travel or lower solid height than traditional compression springs. Because of the tapered shape these springs can be referred to as tapered springs. The improved solid height is achieved by nesting active springs within each other during compression. A common application for a conical spring is in electrical contacts, such as battery contacts and push buttons. Stock springs are supplied with ends squared and right hand wound
Range : 1mm to 3Mm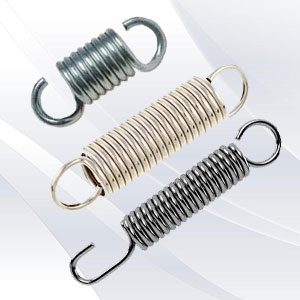 Tension Springs
Our organization is considered as a venerable manufacturer, supplier and exporter of an assortment of the finest Tension Springs. The offered range of springs are well designed and manufactured at our sound production facility using top-of-the-line steel and sophisticated technique in line with industry norms. These are incorporated in manufacturing electronic components, electrical switches, automobile and auto components. Furthermore, our produced Tension Springs are extremely flexible in nature and are offered at pocket-friendly prices.
Finish: Zinc, Nickel, Silver, Gold, Copper, Colored etc.
Material: Steel, Stainless Steel, Carbon Steel etc.
A compression spring is an open-coil helical spring that offers resistance to a compressive force applied axially. It is usually coiled as a constant-diameter cylinder. Other common forms of compression springs–such as conical, concave (barrel), convex (hourglass), or various combinations of these–are used as required by the application. While square, rectangular, or special-section wire can be specified, round wire is predominantly used in compressed coil springs because it is readily available and adaptable to standard coiler tooling. General Wire Spring specializes in the design and manufacturing of custom compression springs and heavy duty coil springs. Learn more about the types and sizing of standard springs below.
Range: 1mm to 12MM
Torsion springs are commonly used in clothes pins, clipboards, hinges, counterbalances and lever return applications. Electronic devices, to large torsion used in chair control units. Torsion springs perform best when supported by a rod or tube. The designer should consider the effects or friction and arm deflection on the torque.
The different types of torsion springs are double torsion, short hook ends, hinge ends, straight offset, straight torsion and special ends etc.
Range: 1mm to 6Mm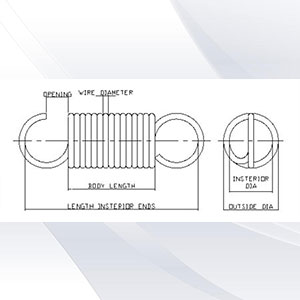 Extension Springs
Extension springs are commonly used in industrial products including automotive interiors and exteriors, carburettors, trampolines, toys as well as thousands of other uses. Extension springs are the direct opposite of compression springs, in that they are close-coiled helical springs that extend under a pulling force. Extension springs can have many different styles of hooked and looped ends.
Range: 1mm to 4Mm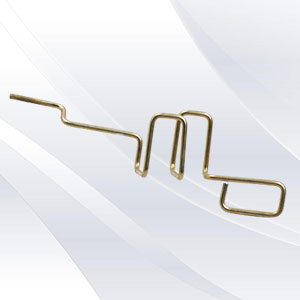 Wire Forms
Industrial Wire Forms : Wire forms have infinite uses and a wide variety of shapes and sizes. These forms can be a load bearing link with minimal deflection.
Wire Forms uses: Our range of industrial wire forms are used in switches, camera, automobiles, switchgear and other industrial applications. We manufacture the range of wires forms in various specifications, which can also be a customized as per the client's requirements.
Range: 1mm to 5Mm