Torsion Springs are helical springs. These are the type of springs which exert torque. The torsion springs are designed in a twisted manner rather than being compressed or extended. As we said earlier, Torsion Spring is a helical metal spring stores the mechanical energy when the torsion spring is twisted. The spring produces proportional force to exact amount of applied force in opposite direction when the Torsion Spring is twisted.
Major difference among the torsion spring and other spring is the torsion spring contains the resistance against the rotationally applied force. Their main work is storing and releasing of angular energy. Hence the torsion springs are designed to oppose the torque.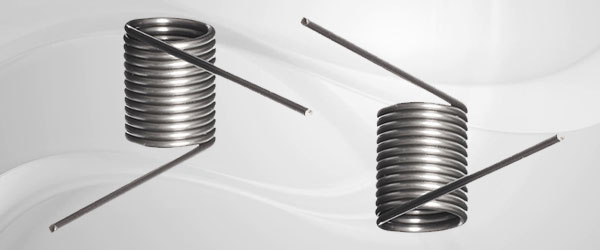 We manufacture and supply Torsion Springs and Helical Springs in Coimbatore for various applications like Torsion Springs for doors, Torsion Springs for Clothes Pins, Torsion Springs for Vehicle Suspension, Torsion Springs for Clocks and Torsion Springs for Watches in Coimbatore.
To fabricate the torsion springs, we use optimum quality of spring wires. We are able to manufacture high quality torsion springs because of our modern workshop which has all the updated facilities and machineries. This is the reason why we can able to manufacture standard and customized springs in high quality.
Torsion Springs are used whenever rotational or torsional force is needed. Torsion Springs are used in various types of applications such as Doors, Clothes Pins, Vehicle Suspension, Clocks and Watches etc.
We are the Best Torsion Spring manufacturers in Coimbatore Tamilnadu India. We are also providing torsion springs at very minimum price in Coimbatore Tamilnadu India. We use standard methodologies in Torsion Spring Manufacturing using advanced facilities and machineries. As we keep quality as our first goal, all our torsion springs have long lasting service life.